Having multiple UNOLS volunteers aboard our ADEON cruise was the difference between ending the cruise as a resounding success as opposed to merely accomplishing the science objectives. - Dr. Jennifer Miksis-Olds, UNH
Welcome to the UNOLS Cruise Opportunity Program Webpage!
The primary goal of the UNOLS Cruise Opportunity Program is to provide graduate students currently completing (or who have recently completed) a degree in a field of oceanographic research with the opportunity to participate in a research cruise. The participant will be a member of the scientific party and be involved in data collection and all other activities at sea. It is envisioned that the individual will be familiar with the science to be conducted at sea, and thus, form new collaborations and potentially develop new research directions. To be eligible to participate in this program, the individual must be either currently be studying at a U.S.-based institution or a recent graduate, and must have either a U.S. Passport or a U.S. Work Visa. Please note that you are responsible for paying for your travel to/from the ship (unless otherwise noted), the UNOLS Office is unable to provide travel funds; however your advisor or institution may have some ideas.
Please review the opportunities and apply by their deadlines listed below. 
Note to PIs:  If you have empty bunks on your cruise, please consider making them available to graduate students. Contact the UNOLS Office to coordinate. Thank you!
To be notified when new cruise opportunities become available, please sign up for the Cruise Opportunity email list. 
---
Available Cruise Opportunities
---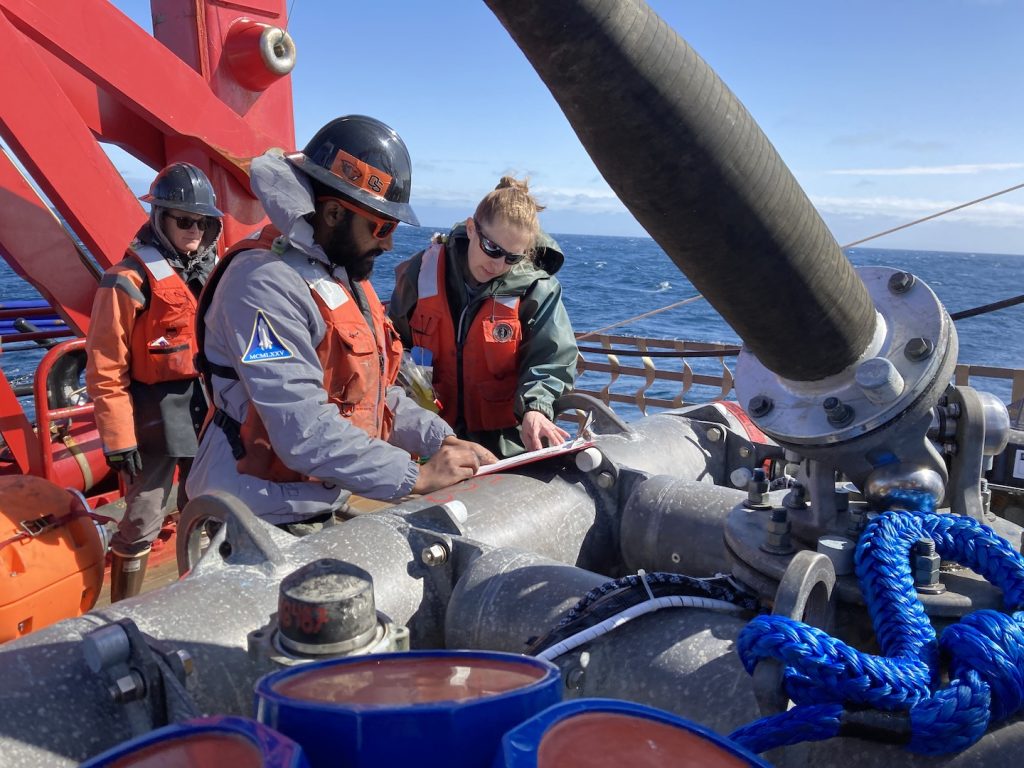 Apply to Sail on Expedition to Survey Gravity Rolls
When: Leave Honolulu, January 4, 2024; Arrive Papeete Tahiti, February 12, 2024
Applications Due: September 30, 2023
We are accepting applications to participate in a 6 week cruise aboard the RV Kilo Moana
to determine the origin of Haxby lineaments (Haxby & Weissel, 1986), which are small, periodic undulations in the gravity field above oceanic lithosphere. We will deploy 40 oceanbottom magnetotelluric instruments to measure variations in mantle conductivity in the lithosphere and asthenosphere, and to map the seafloor topography and sonar backscatter, in a 200 km by 600 km area northeast of the Marquesas islands in the Pacific Ocean basin. 
We encourage applications from early career scientists with interests in marine geology and geophysics. Shipboard duties include learning to help deploy and retrieve magnetotelluric instruments, standing watch in the scientist lab, and performing quality control on the multibeam sonar data. Experience with UNIX, GMT, and MB_System would be helpful.
Travel support includes air fare from continental US to Honolulu and return from Papeete, Tahiti.
To apply send the following information:
- Name and contact information.
- Educational history (degrees and dates awarded), employment experience (including
any internships). Two pages or less.
- Why you want to participate in the expedition.
Send questions and applications to David Sandwell (dsandwell@ucsd.edu) and/or Steven
Constable (sconstable@ucsd.edu). 
The deadline to submit an application is September 30, 2023.
---